Why You Need A Heated Visor
Sometimes, new products come to market and you wonder how they haven't been available before. This is normally when the usage benefits are so clear to see… VISIN, a heated visor insert for motorcycle helmets is one such product.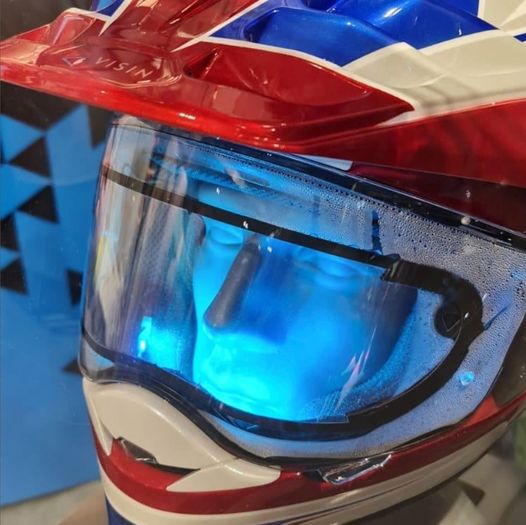 We are basing this on the feedback from Motorcycle Live, a huge bike exhibition in the UK in December last year. The reason for this positive reaction is clear – VISIN works like no other helmer de-mister.
You may have noticed that the word clear was used twice in the first two paragraphs above. This was quite deliberate; we were subtly trying to get that word into your subconscious… for it is one that will forever be associated with our remarkable heated visor.
You may have noticed we are blowing our own trumpet here a little too, and we should apologise for such behaviour, but VISIN truly is a world first and (in our opinion) it is set to change the biking world forever.
Unlike Any Other Visor Inserts
Currently, the alternative to VISIN is a visor insert that works by absorbing moisture. These inserts only work providing the conditions allow for it. If conditions are already damp, those inserts just don't cut it. VISIN operates in temperatures ranging from -20°C to 60°C.
Who rides in –20°C anyway?!!!
VISIN works differently and far more effectively. The clever guys at Diamond Coatings got together and applied their knowledge and experience of conductive coatings to create this heated visor.
The visor insert (available with 2 variants to fit virtually every helmet style) is coated with a clear substance that is also electrically conductive. This allows for a small charge to be passed over the visor, which provides heat – which very quickly removes moisture, offering enhanced visual clarity.
Why You Need A Heated Visor
The heated visor provides 8 hours continuous ride time with clear vision, with the optional boost mode which increases power 2.5 times for 40 seconds during harsher weather conditions. The insert comes with a rechargeable USB battery pack which can be charged in under 3 hours.
No need to open visors during rides to clear the view, whilst also letting in cold, damp air. Just a continuous clear view. Enhanced safety, improved comfort. What's not to like here?!
We truly believe that this product will be as well received here in the States as it was in the UK. The improved safety and comfort features outclass our closest competitors and will really change the way helmets are used throughout the world. A bold statement, but we stand right by it.
Check out our main site to learn more, or if you have heard enough, you can purchase your heated helmet visor right now. Imagine showing this little number of to your fellow riders…
Order your VISIN heated helmet visor insert HERE.