Need a new motorbike helmet? Think again…
Motorbike helmets are a sound investment and should always be treated with the upmost of care. Providing you really look after them and they are not dropped or you have been involved in a collision, helmets can last a long time.
As tech advances more and more, you might be swayed to purchase a more up to date helmet, particularly one with an anti fogging visor. A wise choice on the face of it, but there is an alternative to this and it utilises your existing helmet…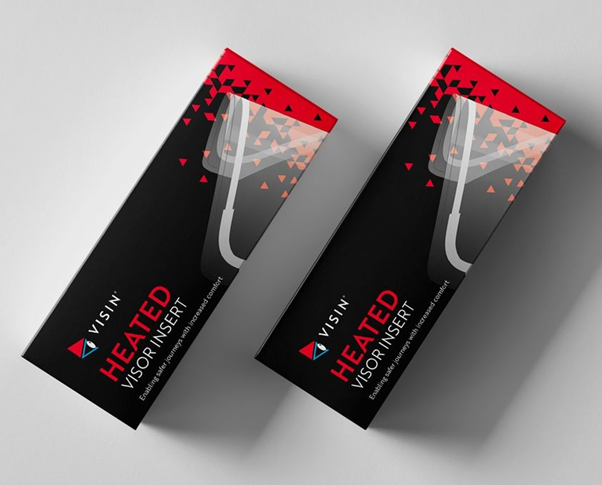 VISIN is a relatively new product to market that has already revolutionised the biking world and the safety of each rider that uses it. Essentially, this is a visor insert that is applied directly to the inside of your visor (quickly and easily) and heats up to remove any fogging.
Gone are the days of riding with your visor open! A real plus is VISIN is available in two different helmet styles, meaning it fits most if not all existing helmets on the market.
The visor insert is coated with a clear substance that is also electrically conductive. This allows for a small charge to be passed over the visor, which provides heat – which very quickly removes moisture, offering enhanced visual clarity.
The science bit
Just in case you were interested, the clear substance mentioned above is Indium Tin Oxide (ITO). ITO is used in many different applications including cellphone touchscreens, heated cockpit windows, low E smart glass and much much more – the combined qualities of being electrically conductive and transparent have seen usage of ITO soar in recent years.
The team behind VISIN are Diamond Coatings Inc, a company with more than 20 years experience in specialist optical coatings. The majority of them are also avid bikers, so it was only a matter of time before VISIN came to light.
Currently, the alternative to VISIN other than a more expensive helmet with a built in heated visor, is a visor insert that works by absorbing moisture. These inserts only work providing the conditions allow for it. If conditions are already damp, those inserts just don't cut it. You will be pleased to know that VISIN operates in temperatures ranging from -20°C to 60°C.
The heated visor provides 8 hours continuous ride time with clear vision, with the optional boost mode which increases power 2.5 times for 40 seconds during harsher weather conditions. The insert comes with a rechargeable USB battery pack which can be charged in under 3 hours.
No need to open visors during rides to clear the view, whilst also letting in cold, damp air. Just a continuous clear view. Enhanced safety, improved comfort – and all from within your existing helmet.
Heard enough?
You can purchase your heated helmet visor insert right here.