Heated Visor
Imagine taking the bike out for a spin, a perfect route with little to no cars, and more importantly, no visor fogging up. No need to open the visor whilst riding (no, you're crying), and perfect crystal clear views of the long road ahead.
Guess what, you don't have to imagine anymore (well, maybe not the lack of cars bit, but we can help with the visor fog).
Introducing a world first
Say hello to VISIN, the world's first ever heated visor insert. There are other anti fogging products on the market, but they do not come close to how VISIN works, and it's all about the technology.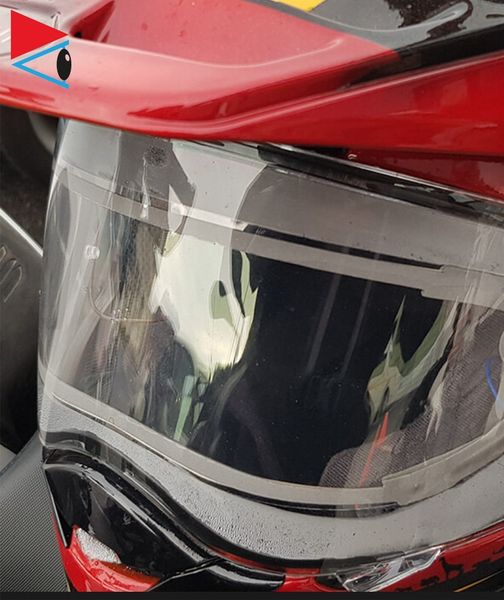 The team behind VISIN have a background in supplying conductive optical coatings – That is glass and plastics that carry an electric charge. This technology has been utilised greatly in heater windows. Imagine a helicopter flying in serious adverse conditions – visibility might be compromised due to freezing windshields in the past. By passing an electric current constantly and evenly over the entire glass surface, the glass remains frost free.
We adopted that same technology to produce VISIN heated visor inserts. The insert is a thin transparent film that fits all motorcycle helmets. It is connected to a battery pack and will supply 8 hours of continuous fog free vision.
The visor insert can be purchased directly from this website and can be installed at home. We have produced a video guide to assist with installation, but it is a simple process. The battery pack is USB chargeable and also comes with a boost mode that will kick start your fog free ride by supplying 2.5 times more power. The boost mode lasts for 40 seconds, after which you are clear and good to go.
The anti moisture options we mentioned above are still reliant on weather conditions to work properly. If there is high humidity, you are still going to fog up. VISIN operates between -20°C to 60°C.
Safer More Enjoyable Rides
To say we are proud of VISIN is a huge understatement. We know that our product will assist riders all over the world and deliver a higher level of safety. If you factor in that the visor does not have to be opened at all during rides, this also brings in a higher level of comfort.
We have undergone strict quality controls and only when entirely satisfied, we launched VISIN to the world. We have already had a lot of feedback, all of which has been positive and notably, full of gratitude.
To purchase your VISIN heated visor insert, please visit our online store. Come and join the safer riding revolution.