Heated Snowmobile Visor
We love it when technology can enhance safety and there are many examples of this in action in today's modern world, yet we can't think of a better use of tech than a heated snowmobile visor.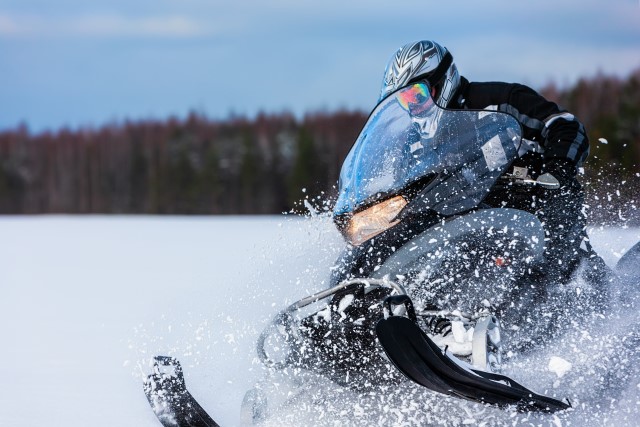 Travelling at speed, a snowmobile user needs to have consistently great vision. However, the environments that snowmobiles are used in can often lead to fogging up of helmet visors, or worse – Icing up completely.
A heated snowmobile visor can eliminate such visual issues. There are a few heated helmets on the market that utilise a special clear conductive coating on the visor to provide a small electric charge which in turn removes any fogging or ice. The heated helmets are the solution many snowmobile users need, yet they come with a big but… they are expensive.
VISIN is a heated visor insert that can offer something very similar but will fit to almost any snowmobile helmets. This means that you do not have to outlay for a new helmet, the VISIN helmet visor insert is simply and easily applied to your existing helmet visor.
The science bit…
VISIN uses a thin film coating of Indium Tin oxide (ITO). ITO is a very useful coating and used in a multiple of industries in a variety of applications. Recently, the team at Diamond Coatings applied their knowledge of ITO to create the world's first battery powered heated visor insert.
ITO is a clear substance that is also electrically conductive, so a small voltage can be applied across the insert, which in turn heats a visor and eliminates fogging up and ice build up completely.
VISIN operates between -20°C to 60°C making it ideal for most environments and the perfect accessory for your snowmobile visor.
The rechargeable (via micro USB) battery provides up to 8 hours continuous charge – in other words, 8 hours of continuous clear vision. There is also a boost mode when facing harsher weather. It's fair to say we are very proud of VISIN and what it will bring to the world of motorcycling and snowmobiling.
When it comes to safety, vision is everything – especially when on a snowmobile. Having a clear visor is so important and there is now a cost effective solution which provides exactly that. You can purchase your heated snowmobile visor insert HERE – and trust us, you are going to wonder how you ever lived without it!