Battery Powered Heated Visor
For motorcycle riders, there is a range of products that suggest that they offer a mist free journey but none come close to VISIN, the world's first battery powered heated visor insert. The 'competition' utilise a moisture prevention film, VISIN applies a superior form of science and does it differently.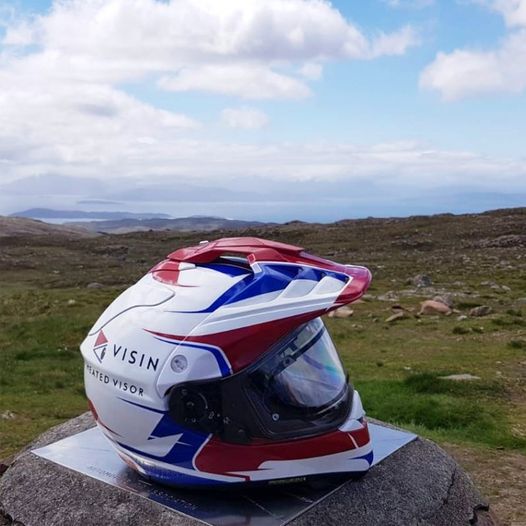 If air circulation is low and humidity is high, non-heated visors invariably fog just like non-protected visors. Once VISIN is activated, no visual fogging will occur – meaning there will be no reduction in visibility.
Battery Powered Heated Visor Insert
The universal fit visor insert has an effective coating that remains clear but carries an electrical charge across the whole visor insert. By applying a small voltage, the visor is instantly heated and provides a mist free view – for up to 8 hours at a time.
The team behind VISIN are both avid riders and as important, have a background in supplying optical coatings to a variety of industries with many different applications. Their background in transparent conductive coatings allowed them to develop the ground breaking heated visor.
Is It Really That Good?
Yes. While VISIN is active, power is continually applied to the film either at normal or boost levels. Lasting for 40 seconds, the boost function increases the power applied 2.5 times – allowing visors to clear rapidly even in the most severe weather conditions.
No more slightly open visors and no more holding your breath! The VISIN battery powered heated visor insert allows wearers to close their visors even in extreme weather conditions without having to compromise their visibility
VISIN is the one and only heated visor accessory that is both universal and battery operated. As it is powered by a battery, VISIN remains effective for much longer than competitors even in the most extreme, challenging environmental conditions.
Effectively operating at temperatures between -20°C and 60°C, VISIN technology has rider safety at its very core. Using VISIN technology improves riders' visibility and keeps them safer in adverse weather conditions.
The battery pack is rechargeable via micro USB so you can be back on the road safely in little time. As far as we are concerned, this is the ultimate in bike safety and overall product quality and performance.
The team even road tested VISIN on a tour of South Africa, putting the visor insert through its paces in all manner of weather conditions and for suitably longer rides – VISIN passed that and further rigorous testing with flying colours.
Safer, warmer, more comfortable rides – what price would you pay for that? How about less than $200? VISIN has been well received by the biking community at trade and bike shows around the world and is now available to purchase directly from our site.